Update May 2016
ddlabz04 xx This version corresponds exactly to
Exploring Discrete Dynamics, Second Edition (EDD2) (2016) published by Luniver Press, a 8x10 inch 577 page paperback with color figures, which can be purchased at Amazon-UK, Amazon-USA, and other online book sellers. The hyperref-pdf file (24 MB) can be downloaded HERE.

May 2016 updates (on the Sept 2015 release) include the following new features, as well as improvements, bug fixes, and coordination between the software and EDD2...

Resetting the scale of transients, separately from the attractor.
Reaction-diffusion dynamics has been present in DDLab for some time, but working in 3d was a recent revelation.
Enhanced methods for saving/loading 1d, 2d, and 3d seeds.
Saving/loading seeds in ASCII and Golly format.
The mouse/pointer in the wiring graphic to repositions the active cell, and defines a block with the last 2 mouse clicks.
Diagonal scrolling space-time patterns: 2d, and 1d tube -- free to occupy the entire DDLab screen.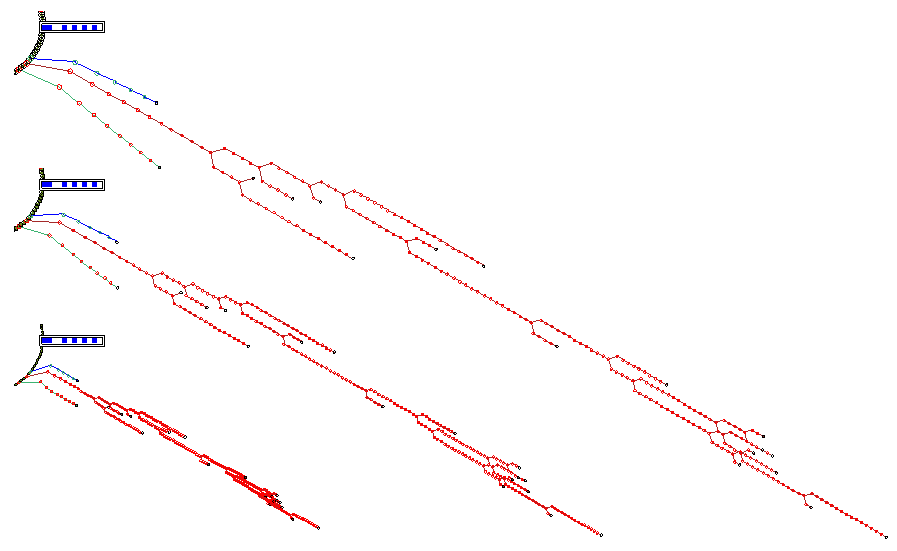 Resetting the transient scale for a single basin of attraction, v2k3 rcode (dec)30, $n$=12, seed=(hex)0baa --- a chain rule with long transients showing just a segment of the attractor (period 102) with a state highlighted.

xxxxxxxxxxxxxxxxxxxxxxxxxxxxxxxxxxx
DDLab has been updated at regular intervals since its release in 1995. Its precursor was the Atlas software included on diskette inside the back cover of "The Global Dynamics of Cellular Automata" 1992.
For a list and download of this and older versions click here.

Below are links to previous updates,
Sept 2015
xxMay 2013
xxxxJan 2013
xxxxxxJune 2012 (EDD 1st Ed)
xxxxxxxxNov 2005
xxxxxxxxxxDec 2003
xxxxxxxxxxxxJuly 2001 (DDLab Manual)
xxxxxxxxxxxxxxFeb 1999
xxxxxxxxxxxxxxxxSept 1997